Dhamma Pallava
First Vipassana Meditation Centre in Poland
Leṇatthañca sukhatthañca, jhāyituñca vipassituṃ.
Vihāradānaṃ saṅghassa, aggaṃ buddhena vaṇṇitaṃ;
Tasmā hi paṇḍito, poso sampassaṃ atthamattano.
Vihāre kāraye ramme, vāsayettha bahussute;
Sheltering and conducive to concentration and insight,
a place of meditation is praised by Enlightened Ones as the greatest gift to the Sangha.
Therefore a wise man, considering his own welfare, should build pleasant dwellings
in which those who have heard much about the Dhamma may stay and practice.
Sayagyi U Ba Khin, S.N. Goenka's teacher, always thought that a permanent centre, where ongoing courses could be conducted, is the most conducive place for meditation.
That's why he kept saying to his disciple:
"Goenkaji, have a centre as quickly as possible!"
Old students of Vipassana meditation in Poland had been searching for a piece of land to build a Vipassana centre for a long time, when (in 2008) a suitable plot became available and was purchased. S.N. Goenka happily gave it the name Dhamma Pallava, meaning sprout or bud of Dhamma. He foresaw that in the future, when the time was ripe, a small bud of Dhamma would grow and then blossom.
He hoped that this simple meadow would be developed into a fully functioning centre where many people from Poland and all around the world would be able to come and meditate. Here, meditators will be able to benefit from ideal facilities, a conducive atmosphere and a peaceful environment, much better than a temporary rented site like the one at Krutyń could offer.
As Sayagyi U Ba Khin used to say:
"The clock of Vipassana has struck!"

May Dhamma Pallava grow and blossom!
Here you can read an article about first year of running the center.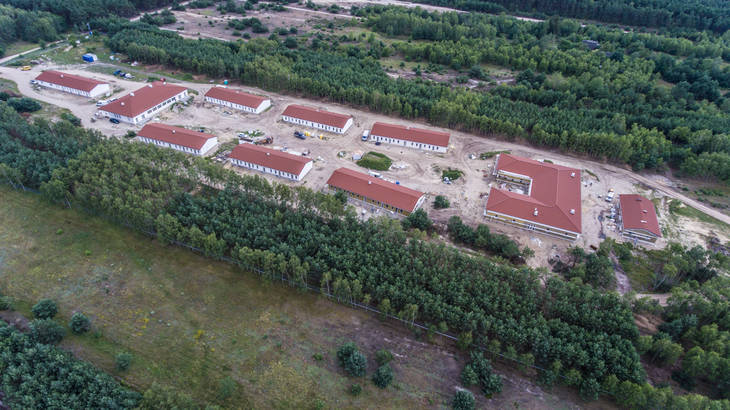 Land

The area of the compound is about 10 hectares. The main plot is longitudinal, rectangular 6.8 hectares of terrain consisting of forests, medows, moors and sands. Smaller walking paths as well as some alleys in the forest are connecting dinning halls with accomodation blocks and meditation hall. There is also a main road encompassing whole site. The courtyard is slowly becoming a lovely garden.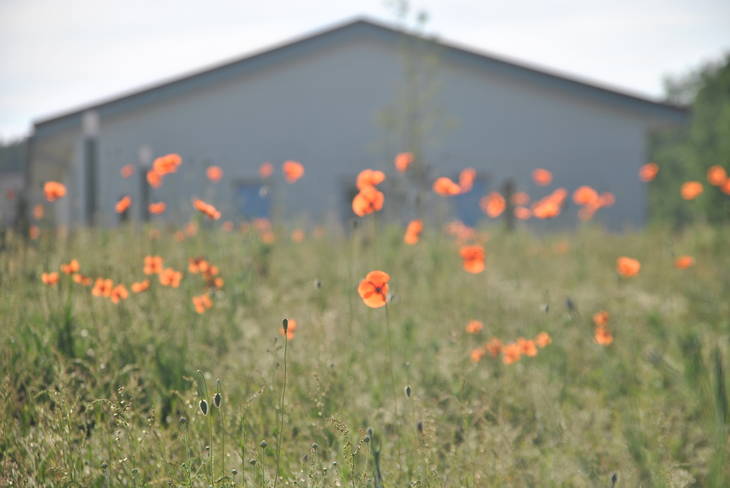 The center consists of ten buildings:
Meditation hall for 110 people and two smaller halls for foreign language discourses.
66 cells for individual meditation (still under construction).
Teachers' residences, with a small interview room.
Kitchen with two dining halls (for men and women) and utility rooms.
Six accommodation buildings, with a total of 110 single ensuite rooms for students, and 10 single ensuite rooms for servers.
Office building with a conference room, utility rooms and 13 single ensuite rooms for servers.
In the village of Dziadowice, which is within the Malanów Administrative Area of Wielkopolskie Voivodship (Greater Poland), 25 km from the Turek exit on the A2 motorway.
Łódź 95 km

Poznań 120 km

Wrocław 160 km

Warszawa 220 km

Katowice 250 km

Gdańsk 305 km

Berlin 390 km